Information for Veterinarians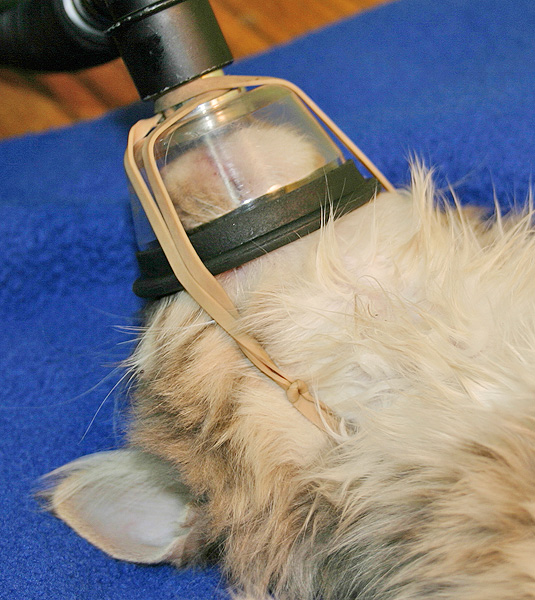 Fun Spays!
When is the last time you had fun doing spays? Pediatric spays are not only fun, but also safe, fast, easy and inexpensive. No estrus, no fat, no fragile tissue. Less bleeding, small incision, quick healing. And spays on adult cats don't have to be drudgery: try Speed Spay! Better for the cat and easier for you.
Mundane?
For some veterinarians, spays and neuters do not offer the brain exercise of other procedures or complex medical disorders. The same is said about vaccinations. But we offer vaccines, because they save healthy animals from deadly diseases. Spay/neuter does exactly that. Spay/neuter prevents overpopulation, which kills over 25,000 healthy animals 365 days a year. In fact, spay/neuter may save more lives than any other single procedure that you perform. Mundane? Think again.
Speaking From Experience
With tens of thousands of spays and neuters to her credit, Dr. Holly Birkett gives words of wisdom to vets wanting more information on pediatric spay/neuter. She began these surgeries before they were mainstream and has learned a few things through necessity. She shares her experiences with you.
Dr. Holly Birkett Speaks from Experience
Pediatric Spay/Neuter Tips
Safe, easy and fast. You can do it. Check out these anesthesia, surgery and post op tips and then get started doing them yourself! Why do them if you're in private practice? The answer is simple. To eliminate the number one cause of death of healthy dogs and cats, a preventable condition called Overpopulation.
Applying Pediatric Spay/Neuter to Private Practice
Many vets understand why shelters perform pediatric spay/neuter, but see no application to private practice. Find out how pediatric spay/neuter benefits your clients, their animals and your private practice!
Applying Pediatric Spay/Neuter to Private Practice
Speed Spay
A complete, high quality spay in less than ten minutes? This is good for the cat and good for you. The Speed Spay techniques meet the highest standards but reduce tissue involvement, post op discomfort, anesthetic time and surgery time. Faster surgery may mean more surgeries per day or less time blocked out for surgery, more space open for appointments. Use our tips on your next spay and get going!
Veterinary Handbook
Our clinic protocols are designed for consistency and simplicity. The handbook describes protocols and why we have them in order to prepare new or volunteer vets for working in our clinic.
See the Resources section for links to Position statements on pediatric spay/neuter and trap-neuter-return.